In the world of online cryptocurrency gaming, BetFury is making waves with its exciting and innovative game, Crash. This unique Bitcoin BetFury Crash game is designed to challenge your strategic thinking and risk-taking abilities, all while giving you the chance to win big! Here's a closer look at how it works, and why it's quickly becoming a favorite among crypto enthusiasts.
What is Betfury Crash?
BetFury Crash is an online crypto game designed for the true gamblers at heart. It involves helping Mr. Fury fly his rocket as high as possible into space. The gameplay is simple: you place a bet, the rocket engines start, and a multiplier increases. If you collect your winnings before the rocket crashes, you'll receive the collected amount. However, if the rocket falls before you cash out, your bet will be lost in the endless expanse of space.
The main goal of the game is to predict when the rocket will crash and have the time to collect your winnings. This requires a combination of strategic thinking, intuition, and a bit of luck. You can play this game with Bitcoin or other cryptocurrencies such as ETH, USDT, or BetFury's native BFG token.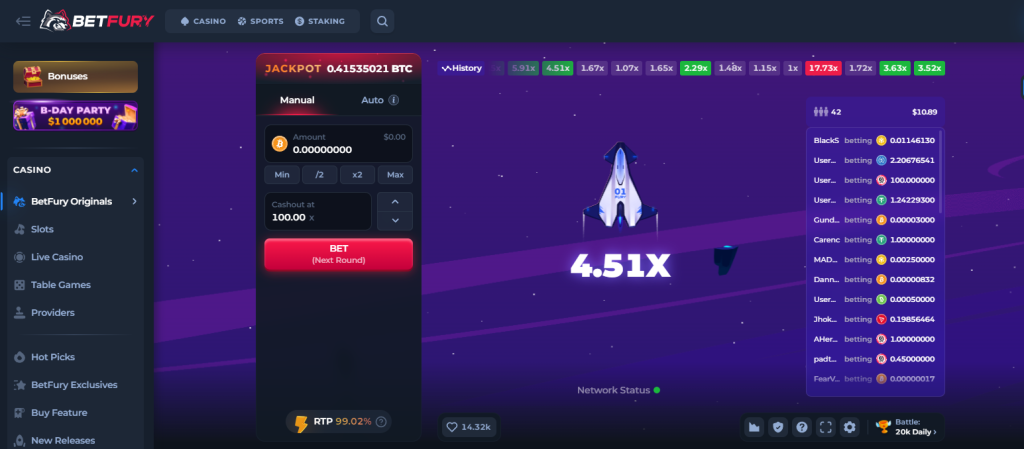 How to Win in Crash
While the game is largely based on luck, there are several strategies that players can use to increase their chances of winning. These include:
One line strategy: This involves betting according to the scheme 1-2-4-10-20-50-100.
Parlay: If you win, you increase the bet; if you lose, you halve it.
Fibonacci: This is a safe algorithm related to the Fibonacci sequence. You start by betting a certain amount, then follow the sequence (1, 2, 3, 5, etc.) with your bets.
In addition to these strategies, BetFury Crash also offers some useful tools like AutoMode for faster gameplay, Hotkey for convenience, and Live Chart for analyzing your game statistics.
💥See also: Betfury Mini Roulette
Fairness and Transparency
BetFury Crash ensures fairness in every game. The results of each bet are random and can be verified on their Fairness page. By copying the next round hash, placing a bet, and checking the match of hashes, you can confirm the transparency and fairness of the BetFury crypto gambling system.
Mining BFG Tokens
Another unique feature of BetFury is its mining solution. By playing In-house games and Slots, including Crash, you can earn extra BFG tokens. The number of tokens earned depends on the size of the bets placed. As the available coins for mining decreases, the value of BFG tokens will rise, adding another layer of excitement to the gaming experience.
💥See also: Betfury Welcome Bonus
Depositing Funds
Depositing funds on the BetFury platform is straightforward. A unique address is created for you, which is used to deposit or withdraw crypto. If you have already linked one of the Web Wallets, the deposit or withdrawal will be processed automatically.
In conclusion, BetFury Crash offers an exciting and innovative gaming experience for crypto enthusiasts. With its combination of strategic gameplay, fair results, and the potential to earn BFG tokens, it's no surprise that it's quickly gaining popularity among online gamers. So why wait? Hop on this rocket simulator game, and create your own way to victory!